Dorset, a picturesque county in South West England, is where history comes alive. Not just through its archaeological sites or in the whispers of the trees in its ancient forests but quite literally in its architecture. Dorset is home to an array of listed buildings—structures identified and catalogued for their historical or architectural importance. These listed buildings serve as cultural heirlooms and educational tools, giving us glimpses into various eras and the lives once led there. Yet, maintaining these historical treasures is not without its challenges.
The Importance of Dorset's Listed Buildings
Listed buildings serve as living museums that help us understand different periods, architectural styles, and social classes. The stones and timbers tell stories—of medieval fortitude, Georgian elegance, or Victorian ingenuity. They also enrich the county's tourism industry, drawing history buffs, architecture enthusiasts, and curious visitors alike.
Building Conservation Challenges
Conservation of listed buildings is a complex process that requires specialised expertise. Many of these structures were built with materials and techniques no longer in use, making repair work highly specialised and often expensive. Additionally, property owners may face restrictions that can complicate the modernisation or alteration of listed buildings, potentially affecting their commercial viability.
Notable Historic Buildings in Dorset
Below are some remarkable listed buildings in Dorset, each with unique historical significance and conservation challenges.
Corfe Castle
One of Britain's most iconic and oldest fortifications, Corfe Castle, dates back to the 11th century. Its ruins hold a wealth of historical narratives, from the Norman Conquest to the English Civil War. 
Conservation Challenge: Corfe Castle is in ruins, and maintaining structural integrity while keeping the 'ruined' aesthetic intact requires a delicate balance. 

Sherborne Abbey
This Abbey is an architectural marvel featuring elements from the Saxon, Gothic, and Romanesque periods. 
Conservation Challenge: The Abbey's intricate stonework is vulnerable to weathering, and preservation techniques must respect the diverse historical styles present in the structure.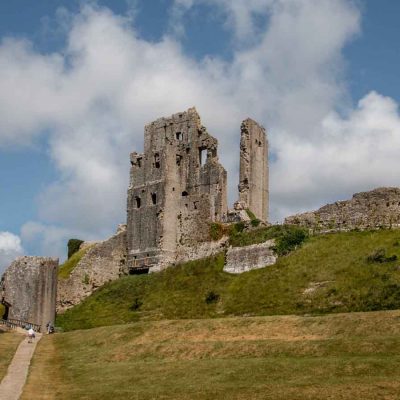 Kingston Lacy House
Kingston Lacy House, an opulent country mansion with Italian and Egyptian influences, offers a window into the grandeur of the 17th-century English aristocracy. 
Conservation Challenge: The variety of exotic materials and intricate detailing require specialist care, making maintenance costly and time-consuming.

The Shire Hall Historic Courthouse Museum
This 18th-century building in Dorchester served as a courthouse and is associated with the Tolpuddle Martyrs, making it an essential monument to legal and labour history. 
Conservation Challenge: Being repurposed as a museum adds layers of complexity to its conservation, as it must now cater to modern accessibility standards without altering its historical fabric.
Athelhampton House
One of the finest Tudor houses in England, Athelhampton House provides a valuable glimpse into the aesthetic and social norms of the 15th century. 
Conservation Challenge: The house has elaborate gardens and water features integral to its history. These require unique conservation efforts that are both architecturally and horticulturally sensitive.

The Clock House in Lytchett Minster
This 16th-century building features an original turret clock and is a beautiful example of Tudor domestic architecture. 
Conservation Challenge: The original clock mechanism needs specialised care, and the wooden elements are susceptible to insect damage and rot, requiring ongoing preventative measures.
Dorset Building Conservation: A Collective Commitment That Celebrates and Preserves.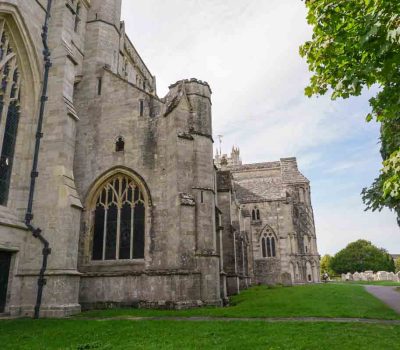 Preserving Dorset's listed buildings is a labour of love and a nod to the importance of cultural and architectural heritage. While the challenges are manifold, from financial constraints to the specialised skills required for authentic restoration, the rewards are immeasurable. These buildings serve as nostalgic ornaments and as real, tangible connections to our collective past.
Therefore, conservation is not just the responsibility of historians, architects, or property owners but of society at large. Local communities, government bodies, and visitors can play a part in safeguarding these edifices for future generations to admire and learn from. Through collective commitment, Dorset's historical tapestry can be celebrated and preserved.
Tuscan Foundry: Cast Iron Guttering in Dorset Since 1893
Cast iron guttering and pipes are invaluable in restoring and conserving period and listed buildings in Dorset. Their authentic appearance and durable material ensure a seamless blend with historical architecture, maintaining the aesthetic integrity of these essential structures.
At Tuscan Foundry, we are one of the UK's leading suppliers of cast iron rainwater systems and have played a pivotal role in Dorset's building conservation efforts. Collaborating closely with local conservation agencies and architects, Tuscan Foundry provides custom-made, high-quality cast iron components that meet the strict standards for historic preservation. Their expertise ensures that the restored buildings stand as a testament to Dorset's rich architectural heritage and endure the test of time.