Many of Scotland's most iconic buildings have a unique look thanks to the age and material of their architecture.
But many of these remarkable structures are slowly succumbing to the ravages of time, particularly when it comes to their guttering and pipes. That's why Tuscan Foundry has developed an extensive range of cast iron pipes and guttering systems designed explicitly for period buildings in Scotland.
Whether it's a castle in the Highlands, a manor house in Edinburgh, or a cottage in Lochaber, Pipes of Peace can help your landmark property get the look it deserves – no matter what era it was built in. Not only that, but all materials used are environmentally friendly and durable enough to last for decades.
In this article, we'll examine why cast iron is ideal for period buildings and how you can give your structure the respect it deserves with Pipes of Peace. Let's get started!
Why Install Cast Iron Guttering and Pipes?
Regarding period buildings in Scotland, there's no substitute for classic-looking cast iron guttering and pipes. Traditional cast iron has a timeless charm, adding a touch of elegance that can instantly boost the look of any structure.
But there's more to it than just aesthetics. Cast iron is durable, so you won't need to worry about constant repairs or replace your guttering every few years. In addition, its inherent weight helps create a reliable support structure that can easily handle heavier rainfall and snow.
Plus, the pipes and gutters are made from high-density cast iron, which is fire-resistant and rustproof for long-term protection against the elements. That means installation today could mean decades of peace of mind and fewer worries about expensive renovations later on!
Using Cast Iron in Historic Buildings
Using cast iron in Scotland's period buildings is necessary, not a luxury. Replacing traditional guttering with more modern materials isn't always the best choice for period buildings – cast iron may be less cost-effective upfront. Still, its beauty and durability will leave your home better off in the long run.
Cast iron is incredibly strong and resistant to corrosion. It can withstand extreme weather conditions and heavy rain, meaning it won't corrode or wear away as quickly as other types of material.

Plus, cast iron pipes look great! Their elegant curves and intricate patterns make them an attractive addition to any building.
In Scotland, restoring period buildings often involves using cast iron as much as possible to preserve the integrity of the building's original design. As such, cast iron pipes and guttering are essential for providing a long-lasting solution to keep your property looking beautiful while protecting it from harsh weather conditions.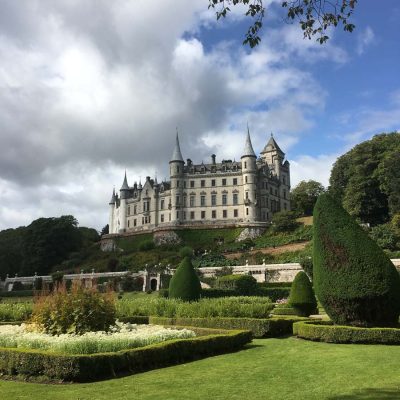 Benefits of Installing Cast Iron Guttering in Scotland
When it comes to period properties in Scotland, installing cast iron guttering helps to keep the building looking its best. With this guttering, you get many benefits you don't necessarily get with other materials.
Durability
Cast iron is solid and durable; the fact that it's been around for centuries is a testament to its strength! It's an incredibly robust material that won't crack or warp and will resist extreme weather conditions – including Scotland's renowned cold temperatures.
Style
One of the critical reasons why cast iron is so popular for guttering in period properties is that it can help keep your home looking as authentic as possible. Cast iron has a classic, pleasing aesthetic that instantly transports you back through time; nothing else looks quite like it!
Cost-efficiency
Installing cast iron guttering can be pricier than other materials like plastic or aluminium, but its durability and resilience make it easily worth the investment over time. All these benefits make cast iron guttering an excellent choice for period buildings in Scotland.
Types of Bespoke Cast Iron Guttering Available in Scotland
You want to ensure you get the right look for period buildings. Many architects and interior designers recommend cast iron guttering for Scotland; it looks good and lasts, so you can be sure the results will have a high-end finish.

At Tuscan Foundry, we hold an extensive range of patterns for many old cast iron gutters. We have various moulded and comprehensive half-round gutter profiles to suit more significant buildings and properties, from castles to dock buildings, churches, churches, and barns.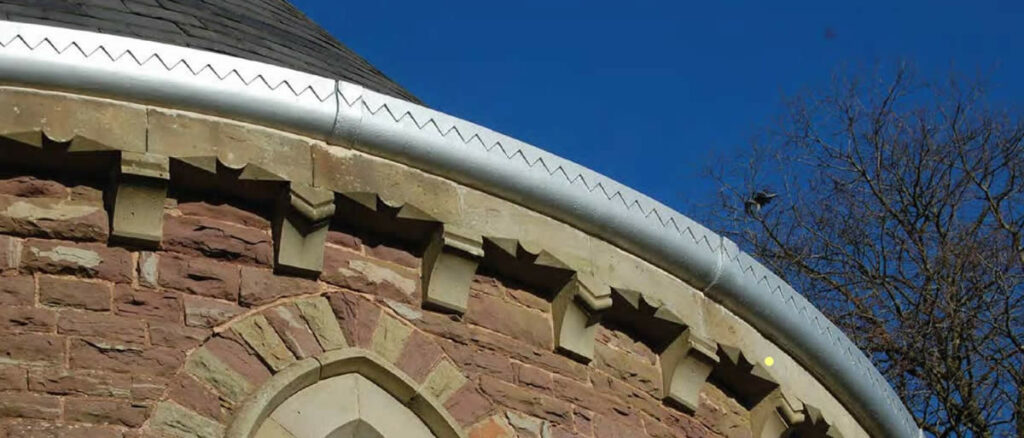 Round and Radius Cast Iron Guttering
Radius cast iron gutters for castles, turrets bay windows. Radiused guttering can be created for any non-standard building construction.
We can create curved cast iron gutters using profile shapes to fit any radius of the gutter.
Standard Profile Cast Iron Guttering Available for Period Buildings in Scotland? Let's Take a Look:
Decorative OG guttering
Decorative OG guttering is as stylish as it is functional. Distinguished by its curved sides, this guttering offers excellent performance and requires minimal maintenance. It comes in various designs and sizes, giving you plenty of options when creating the perfect exterior look for your property.
Decorative OG cast iron gutter is available in three sizes (100mm,115mm and 125mm)
Beaded Half Round Guttering

Scotland and the North of England are unique because many period properties have installed beaded half-round guttering. Beaded half-round gutters became common towards the end of the Victorian period and, whilst used on many Scottish industrial buildings, were also found on many domestic properties.
Beaded Half Round cast iron gutters are available in four sizes (100mm,115mm,125mm and 150mm).
Half-Round Guttering
This classic style features an arched shape that offers an attractive and efficient way to channel water away from buildings. Built with durability in mind, this type of guttering is perfect for traditional property styles such as Edwardian or Regency architecture. Its shape also ensures plenty of water can be held while preserving the esthetic integrity of period properties.
Plain – Half Round cast iron gutters are available in four sizes (100mm,115mm,125mm and 150mm).
Moulded Guttering
This gutter could be ideal if your period building has intricate mouldings. Thanks to its symmetrical form, the moulded channel gives plenty of options for customisation, from detailing along the front edge to decorative ridges or columns along the sides, so your building can have just the right kind of cast iron pipes and guttering for Scotland's timeless style.
Moulded cast iron gutters are available in four sizes (100mm,115mm,125mm and 150mm).
Cost Considerations of Installing Cast Iron Pipes and Guttering in Scotland
You may wonder about the cost of installing cast iron pipes and guttering in Scotland. While it's true that you're looking at an upfront investment for this project, there are a few things you should consider:
Long-Term Savings
Cast iron guttering is more expensive than other materials, like plastic, but it's worth the extra cost. Cast iron pipes and guttering are incredibly strong and durable and can easily last for decades with minimal maintenance, so you'll save money in the long run. And with historic buildings in Scotland, continuing to use period materials is essential for preserving their authenticity.
Long Life and Environmental Credentials
Another benefit of cast iron guttering is its long life. Cast iron guttering, when properly maintained, can have a lifespan of over 100 years and is easily recycled in the future.
Easy maintenance
When you install cast iron guttering in Scotland, you'll experience a low-maintenance solution that requires only a minimal effort to look its best. All you'll need to do is a few simple annual tasks, like clearing away any leaves, dirt or debris gathered in the gutter. This ensures continued performance and keeps your pipes and gutters free from obstructions.
Whatever your property style, you can be confident that investing in cast iron guttering will give your period building the look they deserve. From its durability to its timeless style, cast iron pipes and guttering in Scotland is a viable solution for any traditional building, allowing it to look its best for many years.
Getting the installation right
The key to getting the best return on your investment is ensuring your installation goes off without a hitch. It's always worth hiring a specialist who knows what they're doing when dealing with cast iron, from choosing an appropriate bracket system to handling tricky angles to ensure that your pipes and guttering are correctly installed and securely.
History in the Making - Cast Iron Gutter and Pipes for Scottish Properties
Scotland is home to many period and historic buildings and ensuring they get the look they deserve is essential.

Cast iron guttering and pipes provide a timeless look that perfectly complements the style and architectural features of the building and can help to preserve the character of the building.
Overall, while there are no guarantees that cast iron piping and guttering will last forever, investing in the best quality product, installation, and ongoing maintenance can ensure that your period building and its character are preserved for future generations.
With a little effort and research, you can ensure Scotland's historic buildings look beautiful for many years!