Replacing Brackets for Cast Iron Rainwater Systems?
The poor alignment of guttering or sagging is a significant cause of poorly functioning rainwater systems, this, in turn, can cause the overflow of rainwater and the causing of damp patches and potential damage to the structure of the building. 

It is therefore important to ensure the brackets holding up and retaining the gutters are symmetrical and strong enough to support the gutter, that with cast iron can often be particularly heavy!

Many of the cheaper off-the-shelf brackets are manufactured abroad and of lesser materials that do not provide adequate strength, and are poorly finished, compromising their lifespan and will not provide the longevity and safety provided by brackets made in the UK.
The weight of cast iron guttering and the increased rainfall we are now starting to experience due to climate change means we must think and plan for the future, to make sure that your gutters can withstand leaves, heavy rainfall, and high winds. 

Not only should the brackets be strong enough, but they need to be the right profile for the guttering to be put up straight otherwise it will twist and become inefficient in keeping water away from the foundations of a building.
Traditionally every village or town had a local blacksmith that would not only make horseshoes (this is how we started in 1893), but also architectural fittings for the surrounding properties.  As most period properties have a cast iron rainwater system, we recommend that any brackets which are beyond repair are replaced with reproduction brackets that not only match the existing profile but will last for years to come.

Where replacement brackets are used they need to be robust enough to hold up cast iron gutters, and a UK-manufactured bracket with a more substantial cup and thicker thread for a rise and fall bracket will provide a more robust solution.
It is not only essential to choose the right bracket for the job but this is especially important for an effective rainwater system.  Ensure that the brackets you use are of a heavy-weight steel variety and zinc or galvanised finish.

(Avoid stainless steel as this can have a galvanic reaction with cast iron).
Types and Variations of Gutter Brackets for Cast Iron Rainwater Systems
Fascia Fixing - Gutter Brackets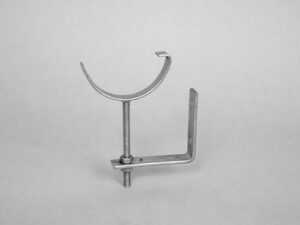 Cast Iron Gutter – Fascia Fixing Brackets
Where the building has an existing fascia, this will help the irregularity of levels, but again putting up a new fascia would not necessarily look in keeping with a period property. 
Fascia Brackets
Fascia Rise and Fall Brackets
We can supply fascia brackets that take the gutter where no adjustment is required, along with fascia rise and fall brackets for cast iron gutters.
Cast Iron Gutter - Rafter Fixing Brackets
Where there is no fascia, the brackets may be fixed directly onto the rafter, either via a top rafter or a side rafter bracket.
These are also available as a rise and fall bracket for when the rafter heights are not aligned, due to building settlement, etc. produced from heavy gauge steel, they will provide sturdy support.
Top Rafter Brackets, Top Rafter Rise and Fall Brackets
Side Rafter Brackets, Side Rafter Rise and Fall Brackets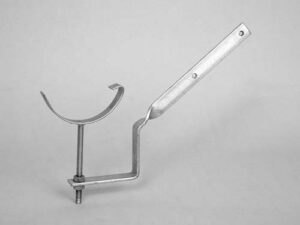 Cast Iron Gutter – Drive-In Brackets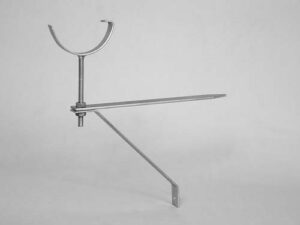 Drive-in gutter brackets have many variations for differing applications, including drive-in rise and fall and under-stay brackets (for larger gutters and greater loads).
The drive in rise and fall brackets has particular relevance and is used in the guttering of older buildings where settlement of the building will cause sway in the eaves line.
Drive in Bracket, Drive in Rise and Fall Bracket, Drive in Rise and Fall with Under stay
A gutter rise and fall bracket with a thick (M10) thread are also particularly useful where old buildings have suffered from the settlement, causing irregularity in the levels of the rafters, which can cause problems when fitting or repairing the gutter. The benefit of a rise and fall bracket is that it can be adjusted according to the rise and fall of the gutter.  


Bespoke and Regional Gutter Brackets
Many regions have an architectural style or regional style of bracket, which may be apparent in the architecture according to the climate as in the North of Scotland where Rhone brackets (top rafter brackets) are used. The increased strength of top fixing (rhone) rafter brackets is beneficial for the increased weight of snow and wind loadings.  
These are just some examples of the bespoke bracket profiles that Tuscan Foundry can manufacture here in the UK.  In addition, we can manufacture brackets to match your existing brackets, enabling your building to maintain its unique character.  Brackets for gutters with unique profiles are still made available and can be produced in bespoke designs.
For Further information on any of our standard or bespoke gutter brackets, please contact our sales office.