Have you ever wandered the streets of London and gazed up at the city's iconic skyline in awe? From Big Ben to Tower Bridge, London is filled with world-famous landmarks that showcase a variety of architectural styles, from Gothic to Victorian.
As a Londoner, you're surrounded by living history. Many of the city's most recognizable buildings have been protected for generations as "listed buildings" due to their historical significance.
Royal Palaces and Government Buildings: Buckingham Palace and the Houses of Parliament
Some of London's most famous buildings are the royal palaces and government buildings that have stood for centuries. Two of the city's most iconic are Buckingham Palace and the Houses of Parliament.
Buckingham Palace has been the official London residence of Britain's monarchs since 1837. The Palace has 775 rooms, including 19 Staterooms, 52 Royal and guest bedrooms, 188 staff, 92 offices and 78 bathrooms. If you're lucky enough to visit during August and September, you may even get to tour some of the lavish State Rooms.
The Palace of Westminster, also known as the Houses of Parliament, is the meeting place of the House of Commons and the House of Lords, the two houses of the Parliament of the United Kingdom. A masterpiece of Victorian Gothic architecture, the Palace was built in the 19th century on an earlier medieval palace site.

The most notable feature of the Palace is its clock tower, known as Big Ben. Guided tours offer a chance to experience the grandeur and history of this iconic building.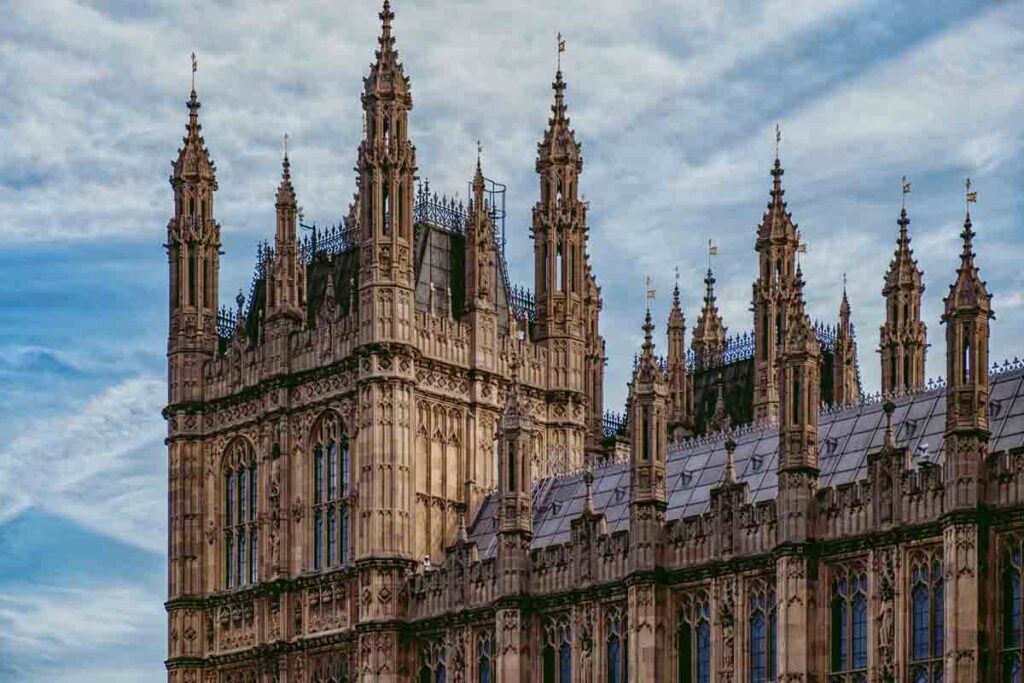 From changing the guard at Buckingham Palace to witnessing the chimes of Big Ben at the Houses of Parliament, London's royal palaces and government buildings have endured for generations and continue to captivate visitors worldwide. A trip to London isn't complete without seeing these architectural and cultural treasures in person.
Historic Places of Worship: St. Paul's Cathedral and Westminster Abbey
London is filled with historic places of worship, but two of the most famous are St. Paul's Cathedral and Westminster Abbey.
Paul's Cathedral, an Anglican cathedral, has dominated the London skyline for over 300 years. Designed by renowned architect Sir Christopher Wren, St. Paul's is considered Wren's masterpiece and one of the finest cathedrals in the world. Climb its iconic dome for panoramic views of the city.
Westminster Abbey has been the site of coronations and burials of British monarchs for over 1,000 years. This Gothic abbey church is also the final resting place of 17 monarchs and other notable Brits like Geoffrey Chaucer, Charles Dickens, and Sir Isaac Newton. With its long history and architectural wonder, it's no wonder Westminster Abbey is one of London's top attractions.
St. Paul's and Westminster Abbey have listed buildings, meaning they are protected due to their historical and architectural significance. By preserving these iconic places of worship, we maintain an essential link to London's long and rich history. If you only see two churches in London, make them St. Paul's Cathedral and Westminster Abbey. Their stunning architecture, cultural significance, and role in shaping London's history are worth experiencing firsthand.
Tower of London: A Medieval Fortress Turned Museum
A Royal Residence Turned Prison
The Tower of London has a storied history spanning over 900 years. Originally built as a royal residence in the 11th century, it later became infamous as a prison for enemies of the crown. Many famous historical figures, including Lady Jane Gray, Sir Walter Raleigh, and Anne Boleyn, were imprisoned or executed within its walls.
Today, the Tower is one of London's most popular tourist attractions and a UNESCO World Heritage Site. When you visit, you'll see the White Tower, the oldest part of the fortress; the Bloody Tower, where the young princes were imprisoned; and Tower Green, where Anne Boleyn and other notables were executed. The Tower also houses the Crown Jewels, a priceless collection of royal regalia, including crowns, sceptres, and orbs.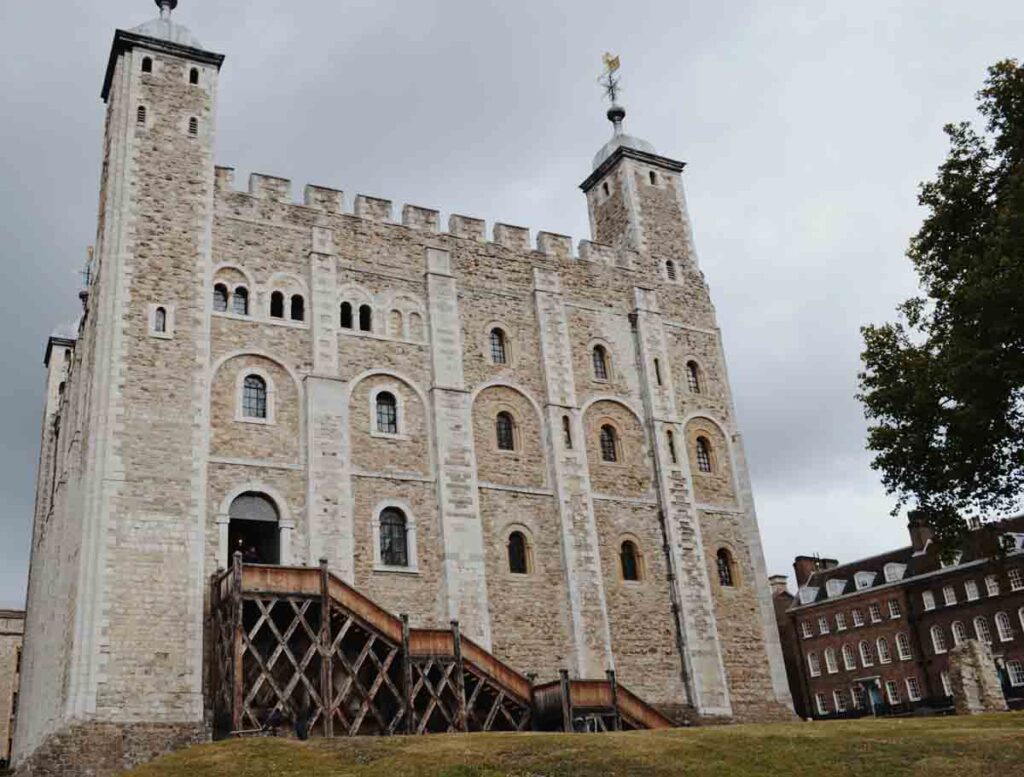 The Tower of London is a striking example of Norman military architecture. Its stone walls, towers, and moats were built to intimidate Londoners and deter foreign invaders.
Over time, additional buildings were added in later architectural styles like the Tudor timber-framed houses. Preserving and conserving these historic structures is an ongoing effort, with regular maintenance and restoration work overseen by Historic Royal Palaces, an independent charity..
A trip to the Tower offers a glimpse into London's captivating history. Walking through the fortress grounds and seeing the Beefeaters in their distinctive Tudor garb makes it easy to feel transported back in time. A visit to this UNESCO World Heritage Site and London icon should be on every tourist's list. Experience the Tower of London and discover its many secrets if you dare!
Where Modern Meets Old: Protecting London's Built Heritage
So there you have it, a quick tour through some of London's most famous listed buildings and the history behind them.
These architectural treasures are a testament to the city's rich history and culture. Even though London continues to evolve as a modern metropolis, these historic buildings will always remain, reminding us of times past and anchoring the city to its roots. The next time you walk through London, gaze up at these iconic landmarks. Please take a moment to appreciate their beauty and the stories they have to tell. Our built heritage is fragile, so we must continue to protect and preserve it for future generations. But for now, go out and explore the wonder that is London!
Tuscan Foundry – Helping to Conserve London's Historic Buildings
Since 1893 Tuscan Foundry has been making and supplying cast iron and steel products for repairing and conserving many of London's period buildings. From cast iron guttering on London hotel restorations like the Chiltern Firehouse, to ornate cast iron hoppers and downpipes on London museum extensions, we can replicate and supply items to match your project's exacting requirements.
Ten Frequently Asked Questions On Owning and Working on Listed Buildings in London:
1. What is a listed building?
A listed building is a property of historical or architectural significance officially recognized and protected by the government. It is listed on the National Heritage List for England, and alterations or changes to its structure require special permission.
2. How do I determine if a building is listed in London?
You can check the National Heritage List for England, available online. It provides information on all listed buildings, including their grade (I, II*, or II) and the reasons for their listing.
3. Can I make alterations or renovations to a listed building in London?
Yes, you can make alterations or renovations to a listed building, but you must obtain listed building consent from the local planning authority. This ensures that any changes align with the building's historical or architectural significance.
4. How long does obtaining listed building consent in London take?
The time it takes to obtain listed building consent can vary depending on the complexity of the proposed changes and the workload of the local planning authority. It is advisable to allow several months for the process.
5. Are there any financial incentives for owning a listed building in London?
Various financial incentives are available, such as grants, tax reliefs, and heritage funding. These incentives aim to support the preservation and maintenance of listed buildings.
6. Can I convert a listed building into a different use in London?
Yes, converting a listed building into a different use, such as residential or commercial, is possible. Still, you will need to obtain planning permission and listed building consent for the proposed use change.
7. Are there any restrictions on external changes to listed buildings in London?
Yes, there are restrictions on external changes to listed buildings. Any alterations or additions to the exterior, including changes to windows, doors, or roofing, must be sympathetic to the building's character and approved by the local planning authority.
8. Can I demolish a listed building in London?
Demolishing a listed building is highly unlikely, as they are protected by law. Preserving listed buildings is a key objective, and demolition is only considered in exceptional circumstances where all efforts to save the building have been exhausted.
9. Are there any professional guidelines or standards for working on listed buildings in London?
Professional guidelines and standards, such as the Historic England Principles of Conservation, provide best practices for working on listed buildings. It is essential to engage experienced professionals who are familiar with these guidelines.
10. What happens if I do unauthorized work on a listed building in London?
Carrying out unauthorized work on a listed building is a criminal offence. If you make alterations without obtaining the necessary consent, you could face legal action, including fines and the requirement to undo the unauthorized changes.

Remember that regulations and procedures may change over time, so it is essential to consult with local planning authorities or heritage professionals for the most up-to-date information regarding listed buildings in London.