You've probably heard of Cheshire's picturesque countryside and quaint villages, but did you know the county is also home to some of England's finest Tudor architecture?

Cheshire boasts some of the finest historic buildings from the Tudor era, including manor houses, churches, and barns. However, many of these treasures are in danger of crumbling into ruins without proper conservation. Local organisations are working hard to preserve Cheshire's Tudor heritage and ensure these architectural gems are around for generations. Join us as we explore some of Cheshire's most stunning Tudor buildings and discover how conservation efforts are securing their future. The past is calling – it's time to answer.
Exploring Cheshire's Tudor Architectural Heritage
Exploring the historic architecture of Cheshire is like stepping back in time. The county is home to over 500 Tudor buildings, many still intact. You can see the evolution of Tudor design in the timber-framed houses and decorative details.
Timber framing, where wooden beams are joined together without nails, was a hallmark of Tudor buildings. Many fine examples remain, like the Grosvenor Museum in Chester with its ornate wood carvings.
Elaborate plasterwork and pargeting, decorative shapes and patterns in plaster, adorn many buildings- Spot Tudor roses, fleurs-de-lis, and geometric patterns on facades.
Distinctive Tudor chimneys with twisted decorative patterns cap many rooftops. They were a symbol of wealth and status.
Leaded windows, made of small panes of glass held together by lead, allow light into the buildings in a decorative way. Stained glass windows in churches showcase religious scenes.
Intricate wood carvings, especially on staircases, fireplaces and entranceways, demonstrate the skill of craftsmen. Spot mythical beasts, floral patterns, and heraldic symbols.
With so much history to uncover, you'll want to explore Cheshire's Tudor treasures. Each building has a story to tell about life in Tudor England. Cheshire keeps its history alive for future generations by preserving these architectural gems. What tales will you discover?
Timber-Framed Treasures: The Unique Architectural Style of Tudor Buildings
The iconic black and white timber-framed buildings give Cheshire its distinctive Tudor charm. These architectural gems feature exposed wood beams, hand-crafted joinery, and plaster or wattle and daub infill-building techniques that date back to the 15th and 16th centuries.
If you've wandered the winding streets of Chester or strolled through the countryside, you've likely spotted some of these historic beauties. Many started as barns, stables or manor houses but now serve as cosy cottages, shops, or pubs.
Some of the grandest examples with the most intricate woodwork can be found in the town centres, like the Rows in Chester or Little Moreton Hall, a sprawling manor house near Congleton.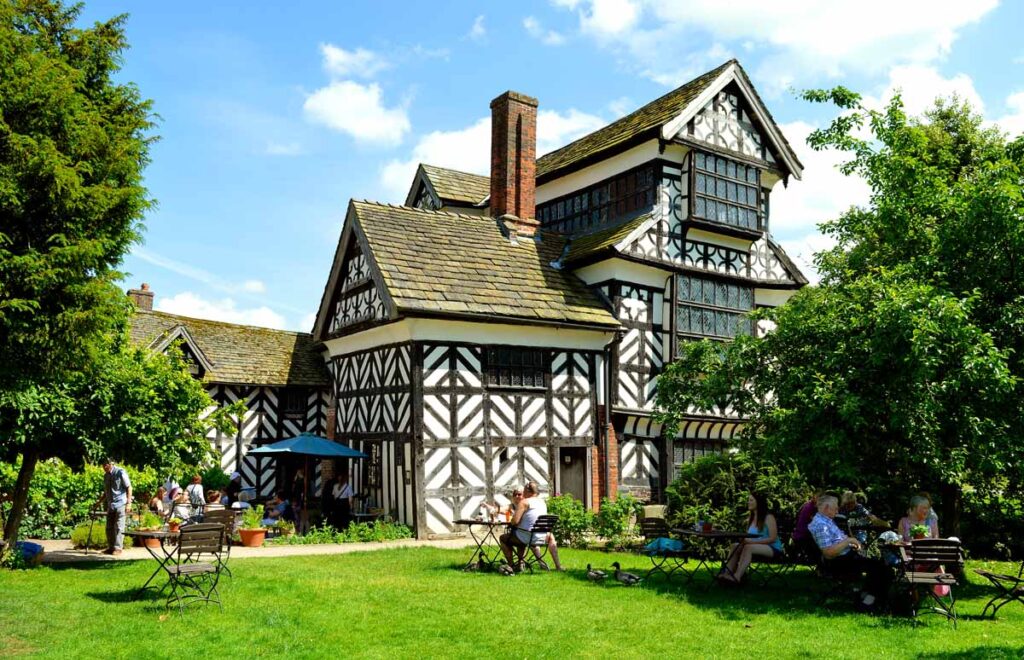 Conservation efforts are underway across Cheshire to preserve these treasures for future generations. Timber frames are repaired and reinforced, plaster is restored, and crumbling stone or brickwork is rebuilt. Modern upgrades are added sensitively and sustainably when needed. Some buildings have even been carefully dismantled and reassembled on new sites.
Thanks to the dedication of historians, architects and craftsmen, Cheshire's collection of timber-framed buildings will continue to transport visitors back in time for centuries to come. So next time you explore the county, watch for these Tudor time capsules – they're living history and an irreplaceable part of Cheshire's heritage.
Preservation Efforts: Funding Conservation of Cheshire's Rich History
Government Funding
The local government provides grants and funding for preserving Cheshire's Tudor architecture. Councils offer grants for essential structural repairs and conservation of historical details in listed buildings. The Cheshire East Council runs grant schemes like the Historic Building Grant to support owners and custodians of listed properties with restoration and repairs.
Charitable Donations
Charities and non-profits also raise money to protect Cheshire's cultural heritage. The Cheshire Historic Buildings Trust is dedicated to conserving historic buildings under threat. They run fundraising campaigns to rescue and restore buildings in danger of being lost. Donations from individuals and organisations have helped save many important Tudor structures.
Community Support
The people of Cheshire deeply value their history and architecture. Community groups organise events to raise awareness and funds for preservation efforts. Local schools teach children about the region's architectural heritage and its importance. Residents show support by volunteering their time, skills and money to help conserve historic places in their communities.
By tapping into multiple sources for funding and support, Cheshire has protected many of its treasured Tudor buildings. Government programs provide essential financial assistance, while charities, non-profits and community goodwill make the difference. Through collaborative efforts across sectors, Cheshire's cultural heritage will remain intact for generations. By valuing the region's history and architecture, residents ensure their Tudor treasures endure.
A Close-Up Look at Major Restoration Projects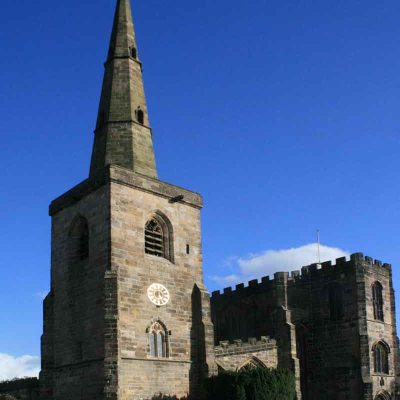 St. Mary's Church
The picturesque St. Mary's Church in the village of Astbury is a prime example of Cheshire's conservation efforts. This 15th-century church has undergone extensive renovations to repair damage from neglect, weathering, and time.
Restoration of St. Mary's began in the mid-1990s and is still ongoing. Projects have included stabilising the structure, replacing the roof, and conserving interior woodwork, stone, and stained glass. The church's rare medieval doom painting was also conserved and repaired.
Tuscan Foundry has been involved  in many church conservation projects, like St Mary's throughout the UK, including the manufacture and supply of cast iron guttering and pipes for churches in Cheshire.
Little Moreton Hall
Little Moreton Hall is a stunning half-timbered manor house built in the early 16th century. This Tudor treasure has been called the "most spectacular moated and timber-framed manor house in England." However, after centuries of neglect, the building was in danger of collapse.
Major restoration work began in the 1920s and continued for over 50 years. Projects included underpinning the foundations, repairing and replacing structural timbers, and re-roofing. The Long Gallery and Great Hall were also restored and redecorated based on remnants of the original paintwork. This extensive restoration and conservation work has ensured that Little Moreton Hall will remain standing for generations.
Other Notable Projects
Restoration of the medieval timber-framed Cholmondeley Castle gatehouse.
Repairs to the Jacobean Lyme Park, including conservation of its historic gardens.
Ongoing conservation of the medieval timber-framed Bramall Hall.
Restoration of the Tudor Speke Hall, including its Great Hall, priest hole, and gardens.
Cheshire's historic buildings are treasures that provide a glimpse into the county's Tudor past. Thanks to the efforts of conservation organisations and local governments, these architectural and cultural gems will continue to inspire wonder in all who explore them.
Building Conservation Efforts in Cheshire
Preservation Through Partnership
Cheshire boasts over 500 historic buildings from the Tudor era, but maintaining them requires a collaborative effort. Local government bodies work with private owners and heritage organisations to protect these architectural treasures.
The Cheshire East Council's conservation team guides appropriate restoration and helps owners access grants and funding. They aim to keep the county's historic character intact while allowing modernisation.
Private owners are responsible for regular maintenance and repairs to their properties. By law, they must get consent for any significant changes that could alter the building's historic significance.
National groups like Historic England and the National Trust also play a crucial role in Cheshire's conservation mission. They help protect important sites by designating them as listed buildings, scheduling monuments or registering parks and gardens of special historic interest. Once designated, the site is preserved for future generations.
Community Support
Residents are passionate about protecting Cheshire's Tudor history. Community groups organise events to raise awareness and funds for conservation projects. Volunteers help maintain historic properties and document local heritage.
Schools also get involved, teaching students about the importance of preservation. Field trips to historic sites and hands-on activities help children understand what life was like in Tudor times and why these buildings matter. By fostering this appreciation in younger generations, Cheshire's Tudor treasures will continue to be valued and safeguarded long into the future.
Conserving Cheshire's wealth of Tudor architecture requires a collaborative effort across all sectors. These historic buildings will stand for centuries through grants, guidance, volunteer work, education and a shared sense of responsibility. The past has a future, thanks to the dedication of all those working to protect it.
How You Can Help: Supporting the Future of Cheshire's Past
Donate Your Time
Volunteering your time is one of the most valuable ways you can help support Cheshire's historic preservation efforts. Local organisations like the Cheshire Preservation Trust, Cheshire Historic Churches Trust, and Cheshire Local History Association always seek extra hands. Tasks may include:
Helping with fundraising events like bake sales, auctions, or open gardens.
Assisting with educational programs for schools and community groups.
Providing extra help with conservation projects like clearing overgrowth, repairing fences, or cleaning headstones.
Offering specialised skills like photography, carpentry, gardening or research.
Spread Awareness
The more people know about Cheshire's historical treasures, the more support there will be to protect them. You can help raise awareness in several ways:
Follow your local preservation organisations on social media and share their posts.
Tell friends and family about upcoming events or new heritage trails to explore.
Write to your MP, councillors, or local paper to express your support for conservation efforts.
Share photos of your favourite historic places on social media using the hashtag #CheshireHistory.
Provide Financial Support
While time and skills are invaluable, funding is essential to sustaining Cheshire's architectural heritage. Donating money, no matter the amount makes a real difference. Some ways to provide financial support include:
Donating to organisations like the Cheshire Preservation Trust, Cheshire Historic Churches Trust or Cheshire Local History Association.
Sponsoring a specific building or conservation project that is meaningful to you.
Leaving a legacy by including heritage organisations in your will.
Purchasing merchandise like books, maps or calendars from local groups. All proceeds go directly to their important work.
Every contribution helps ensure Cheshire's Tudor treasures are protected and preserved for future generations. Together, we can make a difference.
The Future of Tudor Conservation in Cheshire
An Optimistic Outlook
The future looks bright for conserving Cheshire's Tudor architecture. With growing public interest in history and heritage tourism and improved access to funding and resources for restoration projects, the county is well-positioned to preserve these landmarks for future generations.
Public support for conservation efforts has strengthened in recent years. Locals and visitors recognise the cultural value of protecting Cheshire's historic identity. Campaigns to save buildings at risk of decay or demolition now gain more traction.
Government grants and private donations provide essential funding for costly restorations. Projects like the timber-framed restoration at Little Moreton Hall and the stone repairs at Rode Hall were made possible through generous contributions and grants. More buildings will benefit from these funding sources.
Ongoing Challenges
However, challenges remain in properly maintaining over 500 Tudor structures in Cheshire. Lack of funding, limited resources, and threats of neglect or inappropriate development persist.
With hundreds of historic buildings needing regular maintenance and repair, costs quickly increase. Not all buildings receive the necessary funding, leaving some at risk of irreparable damage over time.
Skilled craftsmen for specialised restoration techniques like lime plastering, stonemasonry, and lead roofing are in short supply. Retaining and developing these rare skills is crucial for future conservation work.
Inappropriate alterations, neglect, or demolition threaten Tudor buildings not formally protected. Stricter regulations on development and more listings may be required to avoid further losses.
By raising public awareness, securing funding and resources, and protecting at-risk buildings, Cheshire can ensure the longevity of its treasured Tudor heritage. Though challenges remain, the future of conservation in Cheshire looks promising. With ongoing support, these architectural time capsules will continue standing for centuries.
A Tudor Legacy in Cheshire for Generations to Come
So there you have it, a glimpse into Cheshire's efforts to protect its historic Tudor architecture for future generations. While the conservation work is complex and time-consuming, the result allows you to step back and experience what life was like in the 16th century. The next time you explore the Cheshire countryside, detour and visit some of these architectural treasures. Walk through the timber-framed halls, sit in the pews of an ancient church, or stroll through a Tudor garden. As you do, think of all the hands that built and maintained these structures over the centuries so you can enjoy them today. The past is alive in Cheshire, and with the continued support of conservation charities and local government, the Tudor legacy will endure for centuries.
Frequently Asked Questions Concerning Protecting and Conserving Cheshire's Architectural History
* What is the significance of listing a building, and how does it apply to Cheshire's architectural heritage?
Listing a building is officially recognising its historical, architectural, or cultural importance. In Cheshire, listed buildings preserve the county's rich architectural heritage, including Tudor structures. They are legally protected, and any alterations or renovations require permission from the local planning authority to ensure their preservation for future generations.
* How are cast iron gutters and pipes relevant to building conservation in Cheshire?
Cast iron gutters and pipes are often found in historic buildings, including Cheshire ones. These elements contribute to the overall aesthetic and character of a structure. During building conservation, it is essential to assess their condition and preserve them whenever possible. Restoration or repair of cast iron gutters and pipes can help maintain the authenticity of the building while ensuring efficient drainage and preventing damage to the property.
* What are the legal restrictions when altering or renovating a listed building in Cheshire?
Listed buildings in Cheshire are subject to legal restrictions under the Planning (Listed Buildings and Conservation Areas) Act 1990. Any proposed alterations or renovations, including changes to cast iron gutters and pipes, require consent from the local planning authority. This ensures that any modifications align with the building's historical significance and architectural integrity.
*How can individuals contribute to building conservation efforts in Cheshire?
Individuals can contribute to conservation in Cheshire in several ways. Firstly, they can join local historical societies or heritage organisations actively engaging in preservation activities. Secondly, individuals can support conservation initiatives financially through donations or fundraising efforts. Lastly, raising awareness about the importance of preserving Cheshire's architectural heritage, including the significance of cast iron gutters and pipes, can help garner public support and encourage responsible conservation practices.
* Are there any grants or funding opportunities available for building conservation projects in Cheshire?
Various grants and funding opportunities exist to support building conservation projects in Cheshire. These can come from national organisations such as Historic England, regional heritage funds, or local authorities. It is advisable to research and reach out to these funding bodies to explore the options for financial assistance in conserving listed buildings, including preserving cast iron gutters and pipes.