Cragside owned and managed by The National Trust is Britain's first smart home. This elegant, Arts and Crafts home is filled with gadgets that were way ahead of their time. Hydro-electricity powers the lighting throughout Cragside, and is the power source for many of the gadgets within.

Cragside has its powerhouse, which would provide power to the house at certain times, and by telephone request from the butlers office. Victorian times. The kitchen was one of the main beneficiaries of the technology employed, with a water-powered roasting spit and hand-operated dumb waiter.
Other gadgets of the day included a hydraulic nine-meter luggage lift and hot and cold running water throughout the property.
Through both the interior and exterior of the property, William Morris's influence and designs have a guiding hand. From the ornately carved paneling to the stained glass this has to be one of England's finest Arts and Crafts homes.
Cast Iron Gutters and Pipes for Northumberland Home
Northumberland is not short of rainfall,  and cast iron rainwater systems in Northumberland can be asked to do quite a lot of work!  So of particular importance when the house was built, as now with our much-changing 21st-century climate, the cast iron rainwater goods play an important role in conserving the properties fabric and interior.


Cast Iron Gutter and Pipe Survey
During 2021 and 2022, there has been a major survey of the property looking at the drainage, roof, and rainwater goods.

The cast iron pipes on the main house are rectangular and topped by ornate cast iron hopper heads.
The lesser areas of Cragside which our out of view also feature some standard round cast iron pipes.

In the main, the rainwater systems seem to be functioning well, although some repairs and alterations have been specified for attention.

Cast iron gutters and pipes have longevity on their side when well maintained, many of the existing pipes and gutters are original and still going strong!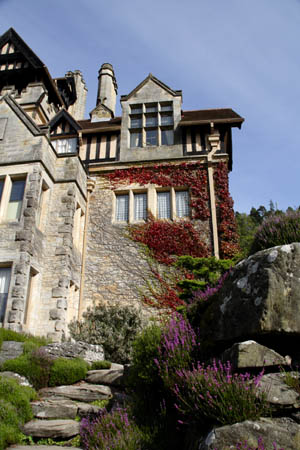 What shape of cast iron pipe is suitable for larger Arts and Crafts properties?
The cast iron pipes at Cragside in Northumberland are mainly larger rectangular pipes, however, many larger properties of this period and style would also have been completed with larger diameter round downpipes.  The most important consideration is the volume of water they are required to take.

What style of guttering would be used on an Arts and Crafts House?
The Arts and Crafts style has five main principles: clarity of form or structure, variety of materials, asymmetry, traditional construction, and craftsmanship. But most importantly the buildings would follow the local vernacular and local materials. So following these principles in many cases, a round or plainer moulded gutter is often used.
What size of cast iron downpipe do I need?
The pipe size is dependent on several factors, including the size of the gutter and the number and position of the outlets, this will ultimately determine the amount of water the pipe needs to take away and therefore the pipe size required.

Tuscan Foundry is happy to assist with calculating the gutter and pipe size requirements for your project.
Do you offer cast iron gutter and pipe site survey visits?
Yes, we can make site survey visits to measure and discuss your project's requirements.
This is a chargeable service and is dependent on your location. Please contact us for pricing.