Have you ever looked closely at the rain gutters and downpipes on old buildings? If you have, you may have noticed those graceful curves at the top of the downpipes, just below where they meet the gutters. Those are called pipe offsets and serve an essential purpose on historic structures. As a homeowner of an older property, those unassuming pipe offsets are one of the small details that help maintain the integrity of your home.
Why Use Pipe Offsets for Cast Iron Downpipes?
If you own a historic or listed building, pipe offsets, also known as swan necks, are a small detail that can make a big difference in maintaining your building's character. Here are a few reasons why pipe offsets should be used for cast iron downpipes:
Pipe offsets allow for easy removal and replacement of downpipes without damaging the building. Since the offset pipe sections redirect the downpipe at an angle before connecting to the lower pipe run, the upper and lower sections can be detached for repairs or replacement without removing large pipe sections or disturbing the building facade.
They provide flexibility in the pipe run. Pipe offsets allow downpipes to be re-routed around architectural details like cornices, string courses, and window surrounds. They can also be used to direct rainwater to specific discharge points. This flexibility is necessary for historic buildings where downpipes are designed to complement the facade.
They reduce stress on pipe joints. The angled sections of pipe offsets help relieve stress by distributing the weight of the pipe, which prevents sagging and helps the pipes last longer. This is especially important for heavy cast iron pipes.
Pipe offsets create an esthetically pleasing look. The gentle curves of offset pipes are in keeping with the character of historic buildings. They help create a visually harmonious appearance between the downpipes and the building architecture.
If you want to maintain the integrity of your historic building, pipe offsets for cast iron downpipes are worth the investment. They may seem like a small detail, but they provide significant benefits for the longevity, flexibility, and look of your building's rainwater system.
The Benefits of Pipe Offsets for Historic and Listed Buildings
If you own a historic building, pipe offsets, also known as swan necks, are a small but essential detail you don't want to overlook. These curved pipes help prevent water damage to your building's facade and foundation.
Pipe offsets redirect water from vertical downpipes away from the base of the building before it hits the ground. This prevents excess moisture buildup in the soil surrounding the foundation, which can lead to damage over time. Pipe offsets also prevent water from pooling around the base of the building, which reduces the opportunity for water to seep into cracks and crevices.
Protects historic materials like brick, stone and mortar from water damage and erosion. The less direct contact with water, the better.
Prevents subsurface water buildup. Too much moisture below the foundation can cause damage through hydrostatic pressure and erosion. Pipe offsets help direct the water flow away from the building.
Avoids unsightly stains and watermarks. No one wants ugly stains and dark marks on their historic building from water pooling and splashing on the facade. Pipe offsets redirect the water to avoid this.
It helps prevent slip and fall hazards. Standing water on walkways and entrances can lead to dangerous conditions in winter when it freezes over. Pipe offsets provide a simple solution to this safety issue.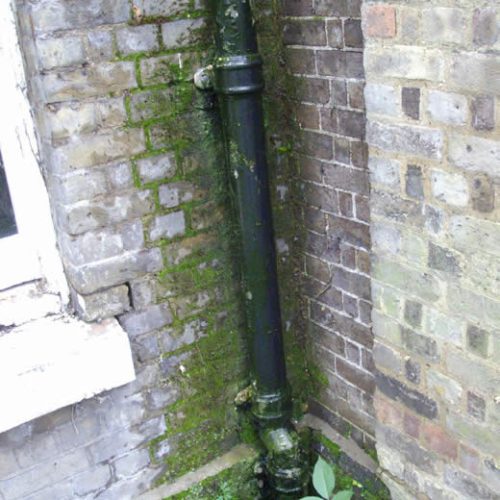 Pipe offsets are a classic detail found on many historic buildings for a good reason. Don't overlook this essential component in your building's rainwater system. Your building's longevity and appearance will benefit from this detail, however subtle, for many years.
Pipe Offset Styles: From Simple to Ornate
Simple Offset Bends
The most basic pipe offset is a simple 45 or 90-degree bend in the downpipe. This subtle change in direction is barely noticeable but effectively directs water away from the side of the building. A 45-degree bend may be preferable for a historic structure to minimise the visual impact. These simple bends were commonly used in the 18th and 19th centuries.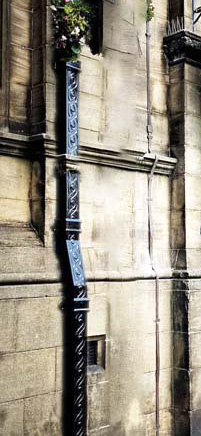 Ornate & Scrolled Offsets
Ornate scrolled offsets were popular from the late 19th century into the early 20th century for a more decorative look, especially on high-style buildings. These offsets feature a shaped curve, sometimes with additional curled detailing at the top and bottom. The scrolling helps break up the vertical line of downpipes, giving them a graceful, flowing appearance that complements the architecture. Ornate scrolled offsets are ideal for Victorian or Edwardian-era buildings.
Swan Neck Offsets
Named for resembling a swan's curved neck, swan neck offsets have an exaggerated shaped bend that protrudes from the wall at a 90-degree angle before curving back towards the downpipe. Swan necks are very decorative and were commonly used on grander buildings from the late 19th and early 20th centuries. They remain popular today for historic restoration and renovation projects because of their ornate, eye-catching style. Swan necks do require more space for installation but make a dramatic statement.
Pipe Offsets for Round, Square and Rectangular Cast Iron Downpipes
Various pipe offsets ensure proper installation and functionality regarding round, square, and rectangular cast iron downpipes. For round downpipes, 45-degree and 90-degree elbows are commonly employed to create smooth bends and turn.

Square and rectangular downpipes often utilise custom fabricated offsets, such as swan necks or curved bends, to navigate corners and connect different sections seamlessly. These different types of pipe offsets offer flexibility and versatility, allowing for efficient water flow and accommodating the specific design needs of the building's drainage system.

Pipe offsets come in an extensive range of sizes and can also be bespoke made to varying sizes and with fixing ears to hold them in place if required.
Combining Styles
Multiple offsets can be combined on a single downpipe for an incredibly decorative look. For example, a swan neck protruding from a scrolled offset creates abundant curves and visual interest. Stacking several simple 45 or 90-degree bends is another way to harmonise the ornamentation. Combining offset styles allows you to achieve a custom, one-of-a-kind design for your historic building.
The style of pipe offsets you choose comes down to personal preference for your building's period and architecture; whether simple or ornate, pipe offsets introduce decorative details that make a difference in highlighting historic structures' beauty and craftsmanship.
Installing Pipe Offsets: It's Easier Than You Think
Installing pipe offsets on historic buildings is easier than you might think. With some essential tools and materials, you can add this decorative architectural detail to downpipes at the weekend.
What You'll Need
To get started, gather the necessary supplies:
Cast iron pipe offsets (also called swan necks)
Pipe cutter or hacksaw
Emery cloth (for smoothing cut pipe ends)
Plumber's putty
Pipe wrench or pliers
Screws or bolts to attach offset to wall
Measuring and Cutting the Pipes
The first step is to measure and cut your straight pipe sections to size. Leave about 6 to 8 inches of pipe sticking out of the wall to attach the offset. Use a pipe cutter for the cleanest cut. Smooth the cut edges with emery cloth.
Securing the Offset
Apply a bead of plumber's putty around the base of the offset to create a seal. Attach the offset to the pipe end sticking out from the wall, inserting the pipe into the offset socket. Hand-tighten at first.
Positioning and Anchoring
Hold the offset in your desired vertical position against the wall. Have an assistant mark the wall through the screw holes in the offset baseplate. Remove the offset and drill pilot holes for the screws. Apply more plumber's putty if needed. Reattach the offset and tighten the pipe connection with your pipe wrench. Anchor the offset to the wall by screwing the baseplate into the pilot holes.
Finishing Up
Wipe away any excess plumber's putty with a damp rag. Give your new pipe offset installation a test run by running water through the downpipe. Ensure there are no leaks before calling the job complete.
With some time and patience, adding pipe offsets to historic buildings can be an achievable do-it-yourself task for homeowners and handypersons seeking to restore architectural details faithfully. Your building will benefit from the increased visual appeal and added property value.
Graceful Curves & Practical Repairs – The Benefits of Cast Iron Pipe Offsets
So, appreciate those graceful curves in a downpipe next time you see them. Those pipe offsets that look like swan necks aren't just a decorative architectural feature; they serve an essential purpose. They reduce water pressure, prevent leaks, and help preserve historic buildings. Something so small allows rainwater to flow freely and our built heritage to last for generations.

When it comes to plumbing, the little details matter. Pipe offsets are a perfect example of how creative solutions don't always have to be complicated to make a big difference.