Notably, we can't discuss the topic of iron casting without mentioning Shropshire, perceived as the world-renowned birthplace of the Industrial Revolution. It was in 1709 that the pioneering innovator Abraham Darby developed a method of iron smelting out of his furnace in Coalbrookdale. He discovered that the more readily available coal could be used to smelt crude pig iron. This process led to a vast production increase of cast iron in Britain on an economic scale, effectively leading the way to a new, industrialised world.
And with the Coalbrookdale area abounding with coal, limestone and iron ore and the convenience of the River Severn's transport links, predictably, the area became enticing for iron manufacturers, leading to the birth of a new town called Ironbridge.
Did the Industrial Revolution start in Shropshire?
So, the question of whether the Industrial Revolution started in Shropshire is an easy one. Effectively, Abraham Darby's ingenuity kickstarted what became famously known as the Industrial Revolution, with his son and grandson carrying on the family name's association of iron casting right through the 16th century. Indeed,

Darby's son, Abraham Darby II, expanded the local iron trade in 1755 by constructing a blast furnace at Horsehay and improving the quality of forging crude pig iron into wrought iron. But, it is perhaps Abraham Darby III's construction of The Iron Bridge at The Ironbridge Gorge in 1779 that is synonymous with the Industrial Revolution.
It was in 1773 that one pioneering architect from Shrewsbury, Thomas Farnolls Pritchard, came up with the audacious plan to combine these new iron casting techniques with clever engineering to design and build the very first cast iron bridge in the world. And Abraham Darby III was given the ambitious design to construct it, using 384 tonnes of iron to build.

As a result, The Iron Bridge was the first of its kind, an engineering feat never before witnessed, and the first in the world to use cast iron structurally. The bridge opened to the public in 1781, inevitably leading to the town of Ironbridge developing, with the bridge becoming globally famous due to its success. Indeed, its constructional brilliance inspired the widespread global use of cast iron as a constructional material.
Built across the River Severn at Coalbrookdale, Pritchard himself never saw the bridge completed, passing away in 1777. However, the unique piece of architecture attracted artists, writers, and engineers from all over the world all in awe of its magnificence. Indeed, it remains today as a celebration of British History and a monument of the Industrial Revolution with the bridge, town, and Ironbridge Gorge, a UNESCO World Heritage Site.
So, How is Cast Iron Produced?
The production of cast iron comes from melting iron ore with a carbon content of 2% or more (also known as iron-carbon alloys). Iron has a low melting point, and it's this process that produces what is known as pig iron (crude iron ingots) which, after smelting, is then poured into moulds to form cast iron products. This procedure is the primary difference between cast iron and wrought iron, the latter being worked with tools and hammers for formation.
The Many Uses of Cast Iron Throughout History
The Chinese first produced cast iron in the early 6th century BCE, using it to make weapons, pots, statues, pagodas, and cutting blades for ploughs. They also have a long history of cooking with cast iron products, together with the Japanese, Koreans, and Indians. However, it wasn't until the 14th century, after the discoveries of the blast furnace and steam power, that cast iron was produced, albeit sporadically, in Europe, finally arriving in England around 1500, with the first ironworks in the US established in Virginia in 1619.
In the UK, cast iron was predominantly used for producing armament in the form of cannons and cannonballs. However, in 1709, after Abraham Darby discovered that coal could be used to smelt crude pig iron, the production of casting iron ramped up, making it popular for kettles and pots, eventually leading the way to use it as a structural material for the first time.
The Differences Between Traditional and Modern Cast Iron Methods
The original traditional iron casting method is known as sand casting, a technique still used today. Indeed, it remains the simplest form of casting, pouring smelted pig iron into a sand mould. The sand mould takes the shape of the casting product required, and once the smelted iron cools and solidifies, the sand mould is broken apart to release the cast iron product. It makes this straightforward casting method perfect for small runs and one-off designs.  
Of course, over time, newer casting methods have developed, typically falling into two categories; expendable moulds that are permanent and reusable and non-expendable moulds that are single-use or temporary.

Examples of expendable moulds would be sand casting and investment casting, with non-expendable moulds in the form of die casting, pressure casting and centrifugal casting.
A summary of some other types of casting follows: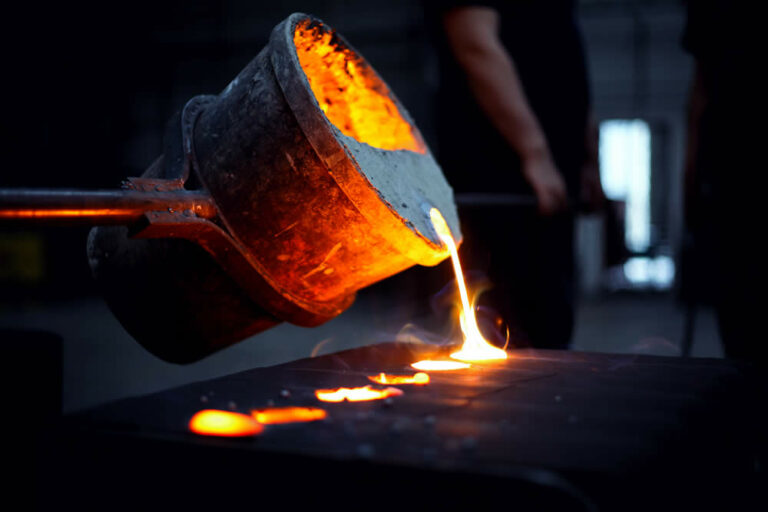 Investment casting is an early form of casting that effectively uses a wax pattern to form a mould made of ceramic, plaster, or plastic. Once set, the wax pattern is melted and removed in a furnace, and the crude iron is poured into the mould creating the casting.
Die casting is a reusable casting method that forces smelted pig iron under high pressure into a mould cavity created using two hardened steel dies machined into the required shape.
Pressure casting is used by professionals who cannot afford air bubbles in the finished product. It is a process that uses a pressure chamber and compressor to eliminate those bubbles from a reusable mould.
Centrifugal casting uses a cylindrically shaped preheated rotating die that uses centrifugal forces to distribute the molten metal to the cavities of a circular mould. Horizontal centrifugal casting typically produces tubular parts, with vertical centrifugal casting producing cylindrical and ring-type parts.
What are the differences between Traditional and Modern Cast Iron Production?
The production of cast iron has very much changed over the years, and where coke was once an integral element in the cast iron process, an emphasis on clean manufacturing over the last few decades is now delivering green industrial initiatives and new production methods for casting iron.
For example, thanks to the introduction of electricity towards the end of the 19th century, the Electric Arc Furnace (EAF) became successfully operational in 1888 and is now responsible for approximately 30% of the world's steel production, requiring no coal at all. In addition, electromagnetic casting was developed in 1997, dramatically reducing the cost and carbon footprint of the casting process. And a brand new HYBRIT method using hydrogen generated from renewable energy sources and a technique known as direct reduction is now very much on the horizon, with the HYBRIT initiative succeeding in producing the world's first hydrogen direct reduced sponge iron in June 2021.

And the exciting thing is, with innovations and discoveries, who knows what will come next in the search for clean manufacturing?
Preservation and Restoration Efforts for Cast Iron Structure & Monuments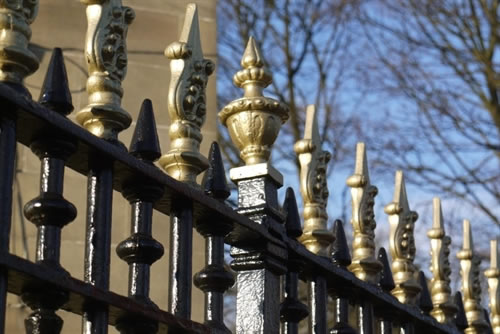 Cast iron is a valuable resource with its impressive compressive strength as a structural material and its non-combustible properties, making it perfect for building textile mills, warehouses, and factories back in the day.
Indeed, many exhibition buildings, train stations, conservatories, and glasshouses were cast iron framed during the 19th century.
And with cast iron being cheaper to produce than its counterpart, wrought iron, decorative cast iron ornamentations and features were often added to structures, such as railings, parapets and balconies.
Preserving and restoring cast iron embellishments and monuments takes expert foundry knowledge. Indeed, the material can be notoriously difficult to restore, and due to its brittleness and poor tension, it certainly requires careful preservation. However, restoration is feasible but must always focus on retaining the original cast iron as much as possible.
Tuscan Foundry is a bespoke cast iron manufacturer with a history dating back to 1893. If your restoration project is looking for like-for-like replacement pieces, interior cast iron features such as traditional period radiators, external LCC soil pipe systems, cast iron guttering and pipes, Tuscan Foundry has the expertise and knowledge to help preserve cast iron structures, their features and embellishments.
The Future of Cast Iron Use in Building & Industry
Throughout history, cast ironworkers have sought to improve the high mechanical properties from the first recorded tensile strength in 1860 at 60 MPa to the lofty 1700 MPa during the 1970s and 80s. As a result, cast iron properties have continually improved with no sign of the material taking a back seat, with global output also increasing significantly.

Cast iron retains higher strength and higher fatigue strength than its counterpart, aluminium alloy. And with its low production cost and exceptional wear resistance, cast iron is still the most crucial casting material widely used, accounting for more than 70% of the total output of castings. Thus, it remains a vital material in our building industries and will undoubtedly continue to be improved upon by cast iron workers for many years.
Cast Iron Guttering and Cast Iron Pipes in Shropshire
Today we supply our cast iron rainwater systems and drainage products for projects in Shropshire, the UK, and throughout the World.

You will find our cast iron pipes and guttering, on buildings as varied as chapels and churches to piers and railway stations, all used to preserve the beauty and heritage of these wonderful old buildings.