If you're of a certain age, you might remember the excitement of heading to the train station to catch a steam train. For a brief period in the UK's history, these locomotives were the only way to travel. And while they may have been replaced by cars and planes for most of us, a small number of enthusiasts have been working hard to keep these railways alive.
Heritage steam railways are now more popular than ever and offer a unique glimpse into our past. In this article, we'll take a look at some of the heritage steam railways in the UK and explore what makes them so special.
History of the UK Steam Railways
Railways have played a large part in the United Kingdom's transportation system for over 150 years. The first steam locomotive made its debut on a UK railway in 1825, and the network has been expanding and evolving ever since.
Heritage steam railways have been popping up all over the country in recent years, as more and more people recognize the importance of preserving these old-fashioned modes of transportation. While some of these railways are used for tourism, others are used to transport goods and passengers.
What's impressive about these railways is the dedication of the volunteers who work tirelessly to keep them running. These people are passionate about preserving their railway heritage, and they're doing a great job of it.
What Is Required to Preserve a Heritage Steam Railway?
It's a monumental task, to ensure these heritage railways and locomotives are maintained and running as they should. It's taken a lot of hard work over the years to get them to where they are now— and there's still a lot of work to be done.
Many of the heritage railways were facing closure in the 1970s and 80s, but a group of dedicated volunteers came together to save them. They formed preservation societies and began fundraising to purchase and restore the trains. And it's been an ongoing battle ever since.
It costs a lot of money to maintain these railways and locomotives, and it's often a struggle to keep the donations coming in. The volunteers have to continuously raise money to keep the trains running. They do this through events, museum visits, and of course, train rides.
Restoring and Operating Historic Railway Stations
Have you ever wondered what it's like to operate a heritage steam railway? It's a labour of love. You've got to maintain, restore and preserve these iconic railway stations, making sure they're in mint condition for visitors.
The work involves everything from sanding and painting the rails to fixing up the platforms and repairing the vintage building parts. There are also lots of safety checks to ensure the trains meet all the requirements for passengers and crew.
But aside from this hard work, there's an immense sense of satisfaction that comes with being part of preserving a piece of Britain's cultural history. And with so many tracks running through breathtaking countryside, it makes each journey all that more special.
Visiting a Heritage Steam Railway in the UK
Have you been considering a visit to one of the UK's heritage steam railways? If so, then you should know that many of them have preserved the old stations and engine sheds, as well as stock their collections with vintage locomotives and rolling stock. The best part is that they offer special events throughout the year, like seasonal fares and themed steam locomotive rides allowing you to take a step back in time.
When choosing a heritage steam railway to visit, be sure to consider the size, location, and train schedule" which are all important factors in determining the overall experience. Additionally, make sure to check for any special activities or events that may be offered during your visit.
For instance, at the Severn Valley Railway, located between Kidderminster and Bewdley, there are regular family events such as Barry the Steam and Thomas the Tank Engine-themed days. At these events, young visitors get the chance to enjoy a ride in one of the vintage steam locomotives, as well as experience a variety of activities and crafts geared specifically towards children.
The same applies to many other heritage steam railways; the North Yorkshire Moors Railway, the Mid-Suffolk Light Railway, and the Bluebell Railway all have family days on select weekends throughout the year, with activities designed for children in addition to their regular steam train rides. If you're just looking for a leisurely ride, then you can check out a steam railway like the East Lancashire Railway in Bury which runs daily services from Bury to Rawtenstall and Heywood.
In addition to regular and special events, many heritage steam railways also host birthday parties for children. These events usually feature a guided tour of the railway, an appearance by the engine driver, a souvenir item for the birthday boy or girl, and a ride in a vintage steam locomotive. It's a great way to make a special occasion even more memorable.
If you're looking for a truly unique experience, consider visiting one of these railway societies. You'll get to take in the spectacular landscapes while traveling aboard historic locomotives, learn more about the historic significance of each line, and explore some of Britain's most impressive railway artifacts. Plus, there are plenty of souvenirs available at each station from postcards to tickets so you can take a little piece of history home with you!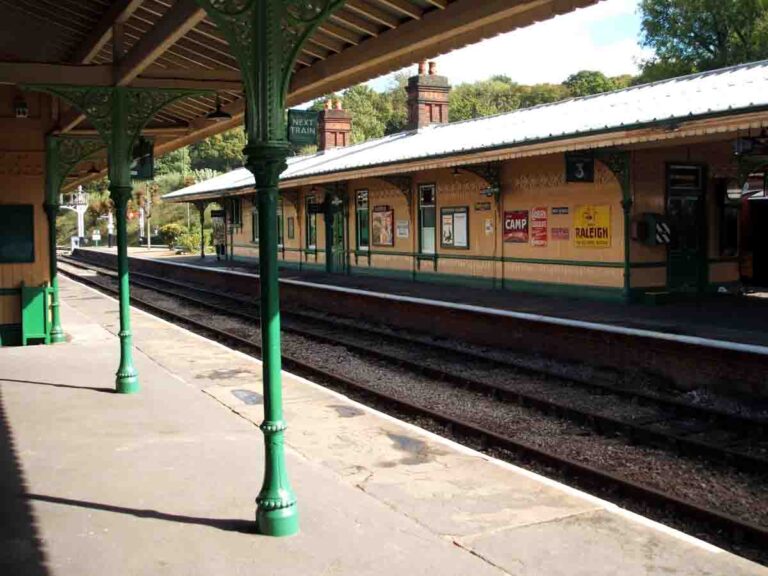 Supporting UK Heritage Steam Railways Through Preservation & Conservation
UK Heritage steam railways are an important part of our heritage and culture and need to be preserved for future generations. Many organizations are working hard to do so, from raising funds for restoration projects to campaigning for better regulation and access to such railways.
The National Railway Museum in York is a great example of this kind of work, offering dedicated volunteer programs as well as educational resources to highlight the importance of these railways. Some numerous charitable trusts and foundations work with heritage steam railways all over the UK.
These organizations support local fundraising activities, and actively campaign for the safety of all those who use these railways – both in terms of tourist and engineering personnel – as well as looking after the surrounding environment. It's only with their help that we can continue to enjoy the unique experience of riding on one of these historic lines today.
Steaming Ahead - Tuscan Foundry's Cast Iron Products
In short, heritage railways are a vital and cherished part of the UK's cultural heritage. Railway preservation is a challenging and complex business, but it's one that's worth undertaking to keep these beautiful machines running for future generations to enjoy.

Tuscan Foundry is proud to have been associated with many projects in the UK and America, supplying everything from cast iron guttering and pipes to waiting room column radiators. We bring our expertise from our Victorian founders to 21st Century production.